Here we'll outline the most popular outdoor dining options – if you're after something more specific or custom made, contact us.
Static Boxes (No wheels)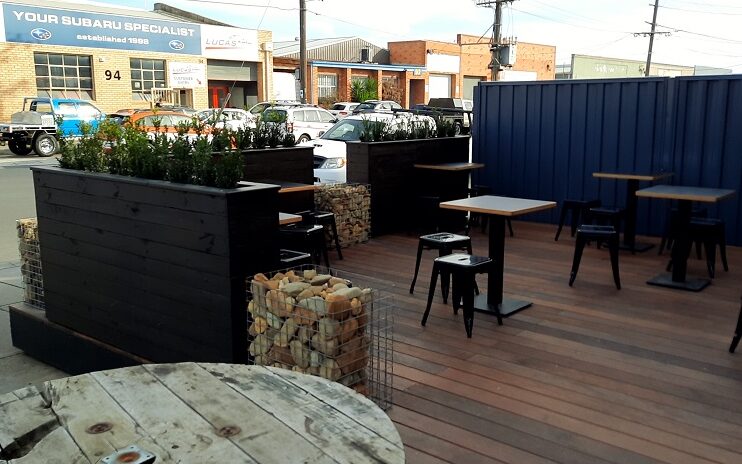 If your council allows you to have fixed planters, they are definitely the option to choose. Our standard design is 1 meter high, 35cm wide and comes in set lengths. 2 meters, 1.5 meters and 1 meter. See price chart below.
Custom sizes and lengths are also possible, but our 2 meter version pushes the limit of what can be handled by two people during construction and delivery – much larger and the cost will increase substantially.
Wheeled Boxes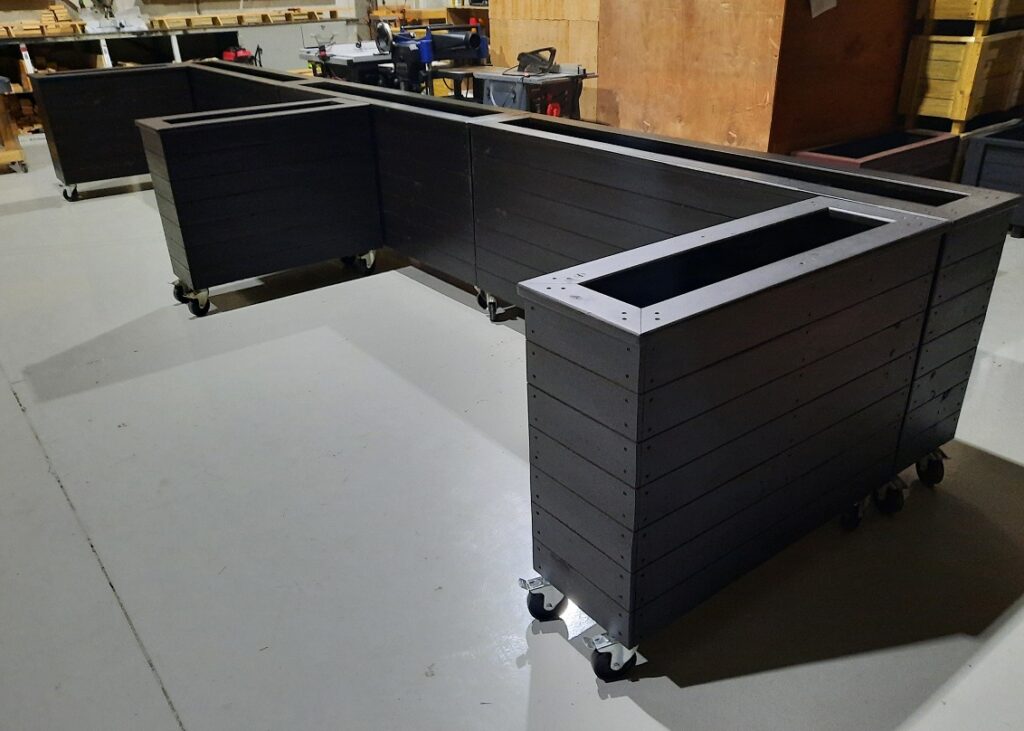 Wheeled boxes are the solution for footpath dining areas, temporary events, or other scenarios where your planter box barriers must be regularly moved, such as due to council restrictions.
1M Planters
Unsanded, unpainted: $315
Unsanded, water based paint: $330
Sanded + stained/oiled: $380-$405
Sanded + polyurethane: $430
1.5M Planters
Unsanded, unpainted: $345
Unsanded, water based paint: $370
Sanded + stained/oiled: $415 – $440
Sanded + polyurethane: $470
2M Planters
Unsanded, unpainted: $385
Unsanded, water based paint: $405
Sanded + stained/oiled: $450 – $490
Sanded + polyurethane: $530
Fencing and other barriers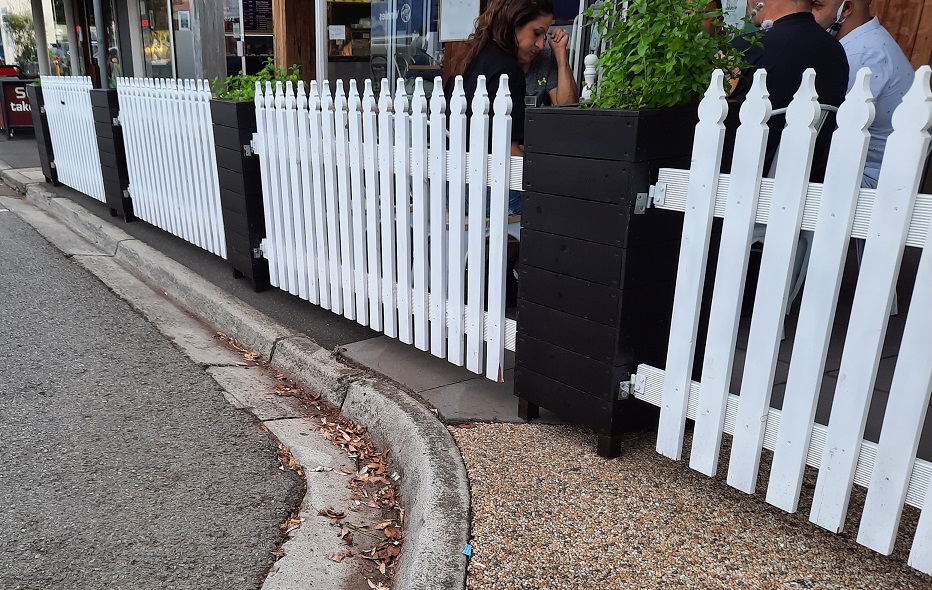 Anything is possible! We fabricate and weld custom metal fittings – so any kind of fancy, modular designs can be done in a practical way.
Get rid of those sad crowd control and canvas style barriers!
Our standard modular fencing price estimates are:
Post box with custom made wooden handle, 2 x wheels and socket fittings range between $180 – $270 depending on finishes.
Fence sections Range between $200 – 250 depending on finishes, maximum length 2.1m
Example: 7.6m = 4 x post box, 3 x 2m fence sections = $170 p/LM – $240 p/lm depending on finishes, GST included.
Signage options
Vinyl Peel Spray
A large sheet of vinyl has your logo/info machine cut into it, and is adhered to the box. The logo is then sprayed in our booth, and the Vinyl peeled away.
Any Size is possible
No ugly stencil lines
Very fine resolution if oil paint is used
Starts at around $100 for 1mx700mm
Laser Cut Stencil
Unlike the Vinyl peel – laser cut stencils can be cut once and used to spray unlimited times. Best suited for simple graphics without fine detail.
Cut into long-lasting acrylic sheet
You can keep your cut stencil
Logo Size limited to 260mm x 560mm
Stencils cut for $50
$20 per spray
Aluminium Panel
ACM panels are the most expensive option, but unlike the Vinyl Peel and stencil options, they can display anything.
Can display any image, not just silhouettes and solid colours
Aluminium will not rust
Very long lasting
Panels are removable
High resolution
All prices listed are rough estimates. Logo complexity varies a lot!